Perhaps you've seen a Facebook meme making the rounds during this COVID-19 crisis: "Nebraska: Practicing Social Distancing Since 1867."
Since statehood, that is. (Actually, one could take that date back to 1854, when Nebraska Territory was established.)
That seems appropriate to remember during this most unusual of Memorial Day weekends in west central Nebraska, where COVID-19 is real but populations are lower and distances between towns are longer.
Even under state "directed health measures" — social distancing, limited gatherings and the rest — the outdoor glories of a Nebraska spring are still there to be enjoyed with just a relatively short drive.
More of our area's traditional summer activities may become possible in June, July and August. For now, though, we've got some ideas — along with some cautions — for getting out of the house next weekend.
State recreation areas
It's a good-news, bad-news situation when it comes to COVID-19 restrictions at the Nebraska Game and Parks Commission's recreation areas.
Then again, if you love Lake McConaughy but hate the big out-of-state crowds, even the bad news might be good news with travel between states still discouraged.
Game and Parks will allow limited RV camping — mainly at recreation areas that have established RV pads — beginning Wednesday. Reservations should be available beginning Sunday on the Game and Parks site.
Other types of camping, cabins, lodge rooms and group shelters remain closed through at least May 31. Playgrounds and play structures are closed until further notice.
Even so, Game and Parks says, state parks and recreation areas remain open to "day use" fishing, hiking, bicycling, wildlife viewing "and other recreation that provides adequate room for proper physical distancing among guests who are well." (Sorry, entry permits and fishing licenses are still required.)
Unfortunately, that doesn't include state-designated beach and swimming areas, due to "recent incidents involving large gatherings and lack of social distancing at multiple state park venues."
Some undesignated beach areas remain open for walk-in access and fishing — as long as "social distancing and the 10-person gathering size limit are maintained," Game and Parks says.
Long story short: If you're headed for Lake Mac, be smart and keep your distances.
But there are breathtaking McConaughy vantage points that don't require a Game and Parks permit: the parking area at Kingsley Dam's south edge, for example, or the overlook up above it at Hill Top Inn.
If you don't want to chance McConaughy at all, don't forget about Game and Parks areas like Lake Maloney and Sutherland and Jeffrey reservoirs in Lincoln County. Be health-smart going there, too.
Quick drives
COVID-19 or not, it's hard to "get away from it all" day trip if lots of people get the same idea you do.
It's a good thing west central Nebraska isn't the Colorado Rockies. You've got better chances of going somewhere people aren't.
Here's a couple of ideas that don't involve more than a two-hour round trip from North Platte but include some places you may not have seen for a while — or ever:
» Interstate rest areas: Even if you regularly drive I-80 from North Platte to Ogallala — or vice versa — you probably don't stop at the rest areas in between unless you need a quick pit stop.
The westbound Sutherland rest area, like all the ones border to border on I-80, offer picnic tables and walking paths.
The O'Fallon's Bluff eastbound rest area preserves and points to surviving Oregon-California Trail ruts across the bluff. (For more pioneer trail ideas, keep reading.)
And at the westbound rest area just past Roscoe, you'll find one of Nebraska's I-80 "bicentennial sculptures" commissioned for the nation's 200th birthday in 1976.
Linda Howard's "Up/Over" is meant to evoke various features of the west central Nebraska landscape: rainbows, plows, center pivots.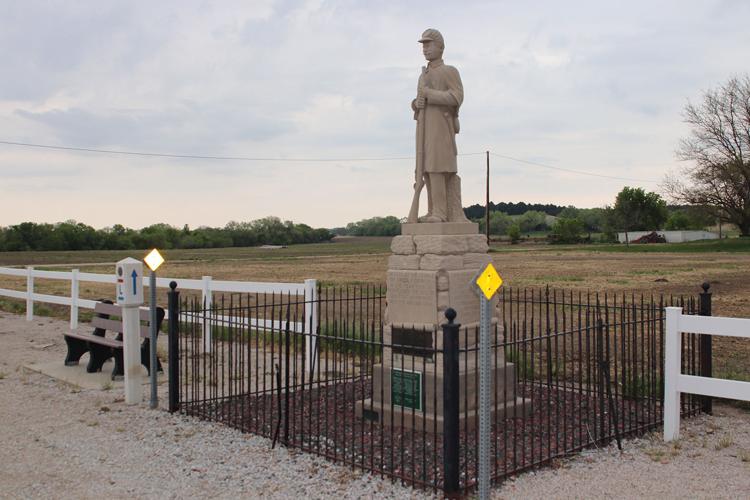 » The original Lincoln Highway: In this case, we don't mean U.S. Highway 30, which covers most of America's first transcontinental highway.
The original route designated in 1913 made use of whatever roads were available. U.S. 30's direct route from Gothenburg to North Platte wasn't built for several years.
Between U.S. Highway 83 in North Platte and Nebraska Highway 47 south of Gothenburg, the original Lincoln Highway followed the "stairstep" county roads now called East State Farm Road, Fort McPherson Road, Banner Road and Dawson County Road 764.
Today's U.S. Highway 30 — a much more direct route — had to be built between North Platte and Gothenburg before the Lincoln Highway officially moved onto it in 1916.
Fortunately for car and history buffs, "1913 Route" signs with the Lincoln Highway's "L" shield have been posted along the original stairstep route.
The 43.8-mile drive takes you past the Platte Valley's south bluffs, today's Fort McPherson National Cemetery and historic markers marking the site of the original fort's flagpole and Cottonwood Springs, Lincoln County's first settlement.
» Overlooking North Platte: The hills on either side of the river valley offer spectacular vistas stretching for miles on either side of town.
Dodge Hill, off the east side of U.S. 83 between North Platte and Lake Maloney, was called "Inspiration Point" by earlier generations of residents.
Take Dodge Hill Road off the highway to reach the hill. It's likely named for Gen. Grenville M. Dodge, the transcontinental railroad's chief engineer who laid out North Platte in November 1866.
Dodge's father had a trading post at Cottonwood Springs, which Dodge visited before the Civil War when he was already thinking about an ideal route for what became the Union Pacific.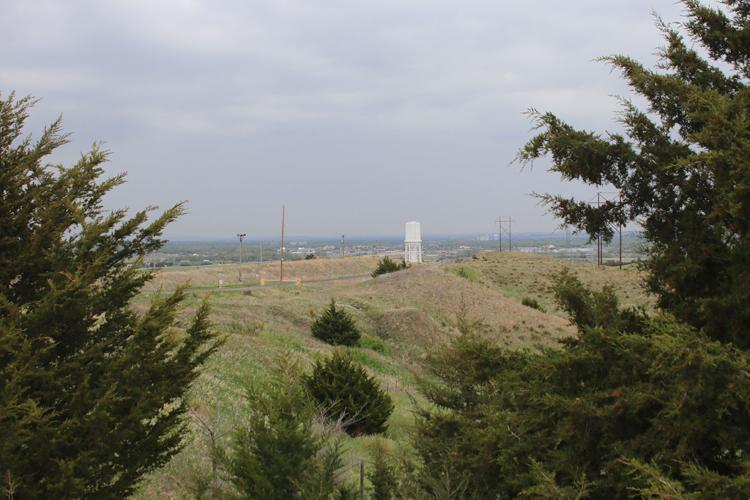 If you drive north of North Platte, take U.S. 83 a couple of miles past the Nebraska Highway 97 interchange, turn around and look back toward the river valley.
On sunny days, one can see more than 20 miles around — and spot Nebraska Public Power District's Gerald Gentleman Station, far to the southwest.
Longer day trips
If you're ready, willing and able to make a longer day of it, Memorial Day weekend offers chance to see the Sandhills and southwest Nebraska at its greenest time of the year.
Online visitors can click on any marker for a Google Earth view of the site and Google Maps directions to the marker.
The Oregon-California and Mormon trails naturally lead the region in markers and other outdoor sites to visit, from the Plum Creek area near Lexington to Ash Hollow near Lewellen.
Southwest Nebraska boasts a few historical markers along the northern end of the Texas Trail, including one at Boot Hill cemetery in Ogallala, the trail's terminus.
» If you drive north on U.S. 83 into Thomas County, you'll find a great scenic-view turnoff at the Dismal River between Stapleton and Thedford.
If you drive that far, of course, you'll have to drive back. The Nebraska National Forest's hand-planted forest lies near Halsey. Or pick a highway or two through the Sandhills and enjoy the rolling green inland ocean.