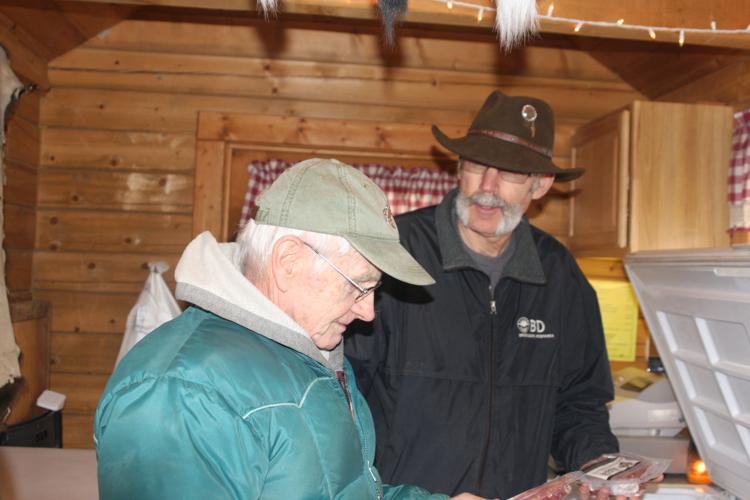 About once a month, Marty and Karen Bred­thauer come to North Platte to sell bison meat out of a little trailer that looks like a log cabin in front of the mall. The meat comes from a herd of about 100 animals that graze a 320-acre pasture outside Broken Bow.
They are not fattened in a feedlot like typical beef cattle, Karen said.
"We don't truck them anywhere," she said. "And that eliminates a lot of stress."
She added that "stress on an animal releases hormones that tend to flavor and toughen meat."
The Bredthauers' operation, Straight Arrow Bison Ranch, has been certified grass-fed and animal welfare approved by A Greener World. The national certifying organization recognizes operations where animals are raised entirely on outdoor pasture or range. It also recognizes those who meet environmental standards prohibiting practices such as spraying weed killers on pastures or administering antibiotics to animals.
Karen said they have not had problems with sick animals since they started putting apple cider vinegar in their water several years ago. She said even flies have not been a problem on the bison since then.
Karen said some of their customers are unable to eat grain-fed meat because of intolerances to corn or soybeans, but they can eat grass-fed meat. Others simply choose to eat grass-fed meat because of concerns about genetically modified grains used to fatten other animals, she said. Grass-fed bison meat has a healthy composition of omega-3 and omega-6 fatty acids, Karen said, and customers appreciate that.
She said that with more muscle fibers than beef, bison meat tends to be tender, and being grass-fed contributes to its low fat content. Marty said they don't neuter their bulls and that also results in leaner meat.
There are other things the Bredthauers don't do with their bison, such as timing breeding and calving. Marty said the bison cows naturally enter the breeding cycle in July and their calves are born in April. He added that their cows are survivors, in contrast to typical beef cows, which are "producers," expected to calve every year. If there is a drought or other conditions are not ideal, the bison cow may go a year without having a calf, he said.
"They're a wild species, much like deer," Marty said; they stay together and live their lives with little interference.
Karen added that their herd is fenced in, but "if they really wanted to get out, they could."