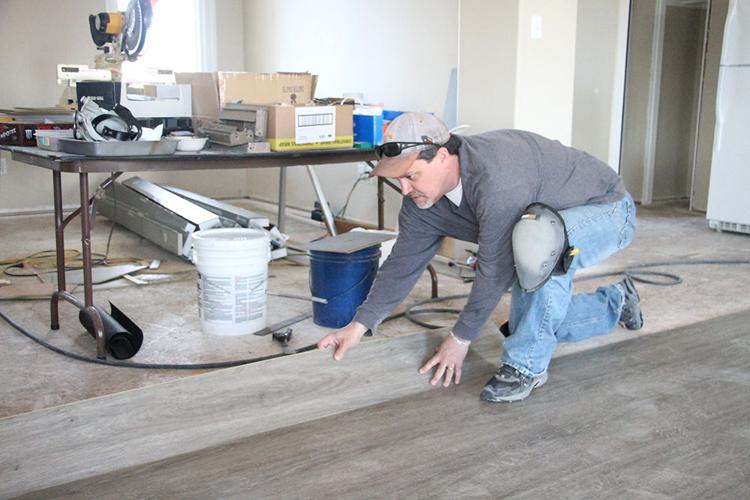 A love for his family and helping them out brought Jason Davis into a continued interest in construction and remodeling homes.
Davis said he never really wanted to do construction.
"The interesting part is that I really never had a knack for it or a desire to do it until I started helping my brother remodel his home," Davis said. "I helped him remodel a home. Then he sold that and built a home and I helped him with that, then another home."
During that time frame, Davis and his wife, Kelley, bought a home on Vine Street in North Platte.
"We did a fixer-upper on it, and then along the way, I had a couple of different rentals," Davis said. "Really, it's been a desire to get it done and save money. If you do it yourself you can save a lot of money."
After selling the fixer-upper on Vine Street, Davis built a new home out near the lake.
"I did a lot of the work along with help from family and friends," Davis said. "I hired some of the big things done, like the drywall and some of the projects that take so long if you're not doing it all the time."
He said he hired help for the brickwork, heating and air conditioning as well.
"But I did all the framing, the cement work and the electrical," Davis said. "My dad did the plumbing, so a majority of it I did all myself."
The Davises' current home has a unique fireplace upstairs and a home theater in the basement.
"I knew I was going to get the projector and I didn't want a pull-down screen," Davis said.
Online, he found information about a specialty paint for projections that cost $150-175 per gallon. But from that online search, Davis found someone who had researched various paints.
"This guy compared it to other paints and he had figured out that a certain kind of paint from Sherwin-Williams performed better for $35," Davis said. "I picked it up and painted the screen and framed it out by ripping out a 2-by-4, and it looks like a permanent screen."
The fireplace idea was taken from a photo.
"It was based on a photo I had seen of a fireplace with two mantels, and we thought that was a cool idea," Davis said. "You don't see that very often, so Kelly and I drew it up and I went at it."
Davis did all the work on the fireplace.
Remodeling requires at least some expertise with construction. Craig Carter, owner of Carter Carpentry, said experience is an important factor.
"I bought the man-made stone and once I framed it all up with the metal lath and tar paper behind it, I went to work on putting the mortar in and did the two oak mantels," Davis said.
They have now purchased a home with the idea in mind of downsizing and being closer to town. Davis is doing the remodeling on that.
"We came in here and tore out walls," Davis said. "We're changing all the trim; we tore out all the cabinets; we tore out a gas fireplace, covered that wall up, then added the electric fireplace."
He said the home needed some major upgrading and he is about halfway through the project. Davis works full-time for Union Pacific and is involved in many other activities, so his time is limited.
"I love doing it," Davis said. "I just don't have enough time in the day to get everything done."
Davis said he has learned a lot from watching YouTube tutorial videos and HGTV, but he has some more advice.
"For a few good ideas and a little motivation, turn to HGTV — for everything else, turn to the Lord," Davis said.