Of all the churches and clubs in Lincoln County, North Platte's Masonic lodge can claim pride of place.
Strangely enough, Platte Valley Lodge No. 32 — which marks the 150th anniversary of its charter Monday — today sits along a street named for one of its founders.
The lodge's 163 members will hold an open house from 6:30 to 8 p.m. Monday in the fellowship hall of its fourth and current home at 202 McDonald Road.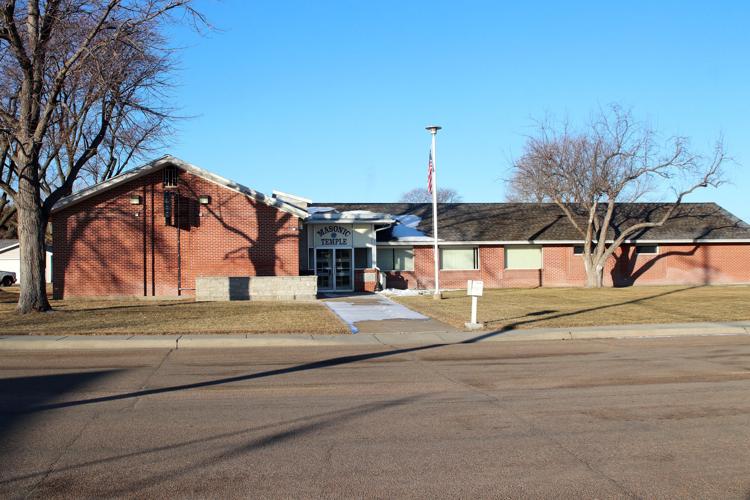 It's across West B Street from today's First Baptist Church, founded the same year that Nebraska's Grand Lodge of Ancient Free and Accepted Masons granted Lodge 32 its charter on Jan. 20, 1870.
First Baptist, however, wears the crown as North Platte's oldest continuous organization. The county's first Masonic meetings were held at Cottonwood Springs, southeast of Fort McPherson National Cemetery near Maxwell.
A monument along Fort McPherson Road commemorates that first meeting on Nov. 15, 1869, on the second floor of a store building built by early settler and charter member Charles McDonald.
Nebraska Grand Lodge leaders will help rededicate the marker June 20 before the Nebraskaland Days Parade, says current Lodge 32 Worshipful Master Bill Whitlow.
The lodge's early history revolved around the original Fort McPherson Army post, though only partly because of its most famous charter member: William F. "Buffalo Bill" Cody.
Documents preserved at the lodge include Cody's written petition for membership on Jan. 29, 1870, a week after the charter was granted.
Local Masonic leaders granted his petition that Feb. 26, and Cody — one of several Fort McPherson soldiers in the lodge — received his Master Mason degree on Jan. 10, 1871.
"Buffalo Bill" remained a proud Mason the rest of his life, even if he missed most meetings while away with the Army, wintertime acting troupes or his Wild West Show.
Before Cody died on Jan. 10, 1917, he requested that his North Platte lodge brothers provide Masonic honors at his burial on Lookout Mountain near Denver.
Members of Knights Templar Palestine Commandery No. 13 obliged on June 3, 1917. Photos of their participation were rediscovered by Lodge 32 in 2017 and donated to Buffalo Bill Ranch State Historical Park.
By the time Cody was laid to rest, Lodge 32 had settled into their third and largest home in the 1908 Masonic Building, still prominent at East Fifth and Dewey streets.
The lodge had left Cottonwood Springs for North Platte in 1872, the result of a flareup of recurring controversy over Masonry and its secret lodge rites during the United States' first century.
Fort McPherson's commander, Col. W.H. Emery, "was bitterly opposed to Masonry and did all in his power to crush the new lodge out, even persecuting his men who belonged to the order," historian Ira L. Bare wrote in his two-volume 1920 history of Lincoln County.
"After much difficulty in this regard, the brotherhood of Masons concluded to remove the lodge to North Platte," added Bare, whose co-author William H. McDonald — son of Charles McDonald — was the first white child born in Lincoln County.
Lodge 32 moved on Sept. 13, 1872, into a modest two-story Masonic Hall on the site of the much larger brick Masonic Building dedicated on Feb. 22, 1908.
The 1908 building's banquet hall and temple dominated the second floor, with the first set aside for stores. The third floor was added in 1929 and dedicated a year later.
Montgomery Ward & Co., long the downtown Masonic Building's most prominent business tenant, used the first floor from its 1928 North Platte opening until it closed in 1985.
Two years later, Lodge 32 members decided to sell their longtime home and buy North Platte's Seventh-day Adventist Church building at West B and McDonald.
National Masons by then had relaxed a longstanding rule that temples had to be on a building's second floor, said Whitlow, a previous worshipful master during the 1970s of the Masonic lodge in Georgetown, Colorado.
"They decided that wasn't necessary anymore, and we wanted to get something accessible for the older members," he said.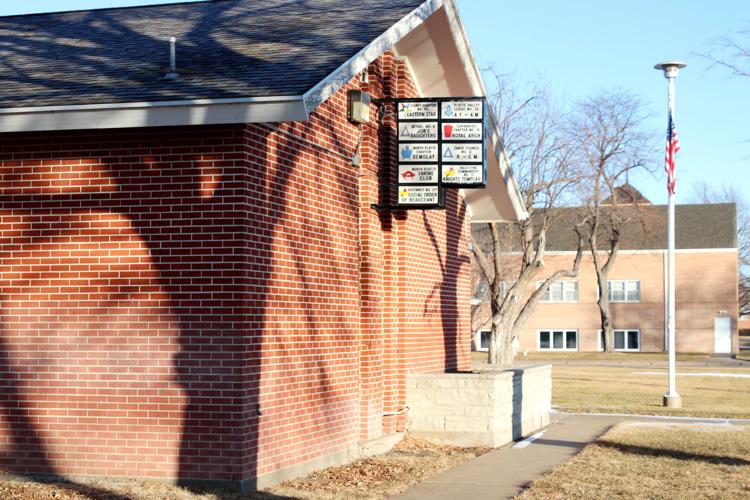 Lodge 32 moved into its current building in March 1987 and dedicated its cornerstone in a ceremony on June 6, 1987. A fellowship hall was added in 1988.
Though Lodge 32 meets only once a month — on the second Tuesday at 7:30 p.m. — the hall also hosts meetings of eight affiliated male and female Masonic groups such as the Knights Templar, Shrine Club, Eastern Star and Jobs Daughters.
Though churches, fraternal orders and service clubs face membership challenges in 21st-century America, Whitlow said Lodge 32 has done well at finding younger members to replace those who have passed away.
"We're just a society of men. We like to improve ourselves," he said. "When you have people with high moral standards, you tend to want to hang around people with high moral standards."
Lodge 32 will appear in eight parades around the region this year to mark its 150th anniversary, Whitlow said.