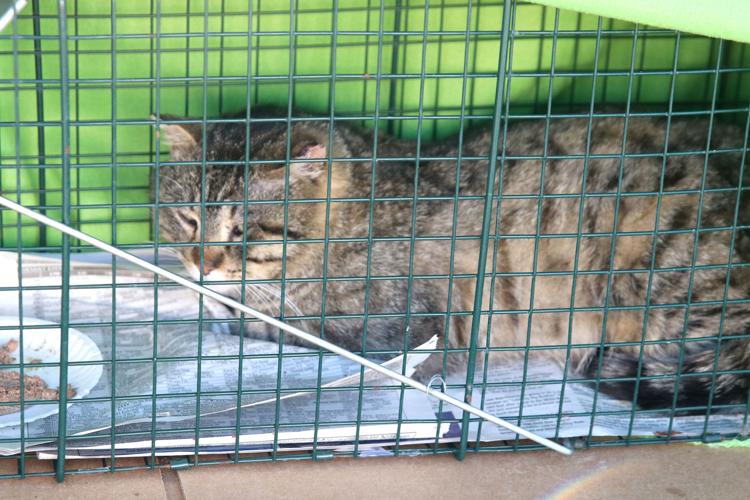 Though calm, the cat stared out from its cage in the back of Sami Erickson's vehicle.
The cat had recently been neutered, and the tip of its ear clipped to show other humans it had received the operation. Cats like him won't be adopted into a forever home, but rather released back into the wild.
Members of North Platte's trap-neuter-return program lure the cats into shelters made from totes and straw. After spaying or neutering, the cats go back to living a feral life, said Erickson and her partner in the program, Linda Lund.
"Then we go back the next year and check to make sure there's no new babies," Lund said.
The group has handled 250 cats in almost two years; Lund handled another 200 in about three prior years as she worked alone, she said.
Few of these cats can be adopted — Erickson said that's happened with about a dozen of the cats they've trapped. Those probably were already domesticated, likely abandoned or lost by previous owners, she said.
Cats that were once domesticated look "disheveled," not having learned how to live in the wild or find food, Lund said. The pair evaluates the cats, and if a cat blinks or meows, this may also indicate domestication, Lund said.
"If the cat is friendly," it will even sniff a person's outstretched fingers, Lund said.
The ladies don't suggest trying to domesticate a stray — feral cats want to stay that way, they said. But if you get close to a neighborhood cat, "if you feed them, then fix them," Erickson said.
Lund began her mission when she found a colony of cats near the Platte River. Lund's daughter had already taken on the trap-neuter-return mission living in California.
"She encouraged me to catch those cats," she said.
Erickson said once you get involved, it's impossible to stop.
Larger cities have specific training for their trap-neuter-return programs, Erickson said. Best Friends Animal Society, a multistate pet rescue, says the program started in Britain in the 1950s, then took off in Denmark and in the United States.
Lund's daughter helped her learn hot to trap cats, and she largely taught Erickson, they said.
"I was scared probably the first 50 times we trapped," said Erickson, who joined the effort after seeking an animal charity with which to get involved.
The women now meet a few times each week at undisclosed locations around North Platte. Some people near trapping sites have poisoned, tortured or harmed feral animals, causing the women to keep specific locations discreet. One cat was shot with a BB gun, Erickson said.
For those who love kittens, Erickson suggests becoming a foster parent to a pregnant cat from the animal shelter. It gives someone the chance to love the kittens without adding to the feline population.
"Kitten season is just right around the corner," Erickson said, adding that springtime means mating time for cats just like other animals. "We can feel it breathing down our neck."
Perhaps the hardest part about the trap-neuter-return program, the ladies agreed, is the return. Each has become close with their own "colonies."
"It's very hard to leave them there," Lund said.