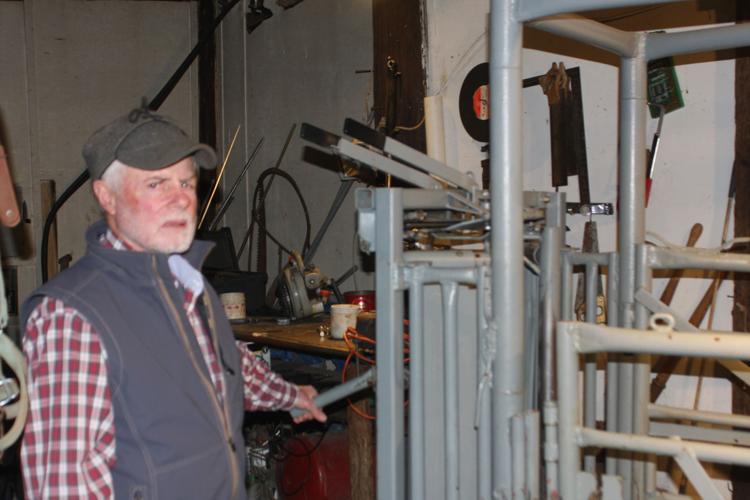 The extended cold weather this winter was a problem for new calves in the area, resulting in numerous cases of pneumonia, according to Jerry Thompson, DVM, of Stockman's Veterinary Clinic in North Platte. He said he hopes scours does not hit hard, and stressed that sanitation is important in limiting losses.
Thompson said he has received reports of antibiotics not working very well against pneumonia, "but I think that's more because it hit them so hard and so fast. It's all about the chill," he said. "We finally got some warmer weather," and that should help, but pneumonia will persist for a while.
"It takes quite a while to work out of it," he said.
Thompson said the cold prompts cattle to eat more, and that has resulted in larger calvesסand more difficult births, so the clinic has been called on to do quite a few Cesarean sections. On Friday he said they did three just the previous night.
Thompson said the veterinary staff spends a lot of time in the country through the course of a year.
"We go out and pregnancy test thousands and thousands of head every fall, and we spay [heifers], and semen test bulls, and these things are all done at the ranch site," he said.
But when it comes to C-sections, they do them in the clinic whenever they can, where they have a heated barn and sanitary conditions.
Thompson said he hopes there aren't a lot of problems with scours this year, but the weather will be a big factor. Every year is a little different and "It's like playing poker. You don't get good cards every time," he said.
Common symptoms of scours include diarrhea, dehydration, weakness, depression, lack of desire to nurse and even death, in baby calves. Thompson said scours, which can be caused by several different bacteria and viruses, is promoted by cool, wet conditions.
Scours spreads quickly in cattle that are bunched together, said Thompson. For that reason, he said new cow/calf pairs should be moved out of the calving lot quickly.
"You don't want to see baby calves much more than 24 hours old" in the lot, he said. He added that the first few meals a calf receives from its mother are colostrum, which provides important disease resistance.
"That must happenסnd it should happen in a clean environment," he said.
"You sort daily," Thompson said. "Take 50 to 100 and move them off to themselves, then do another 50 to 100 and move them off to themselves. That's the Sandhills way of doing it, and it's done for disease prevention. Don't congregate your cattle too much, 'cause that'll get you in trouble," Thompson said.