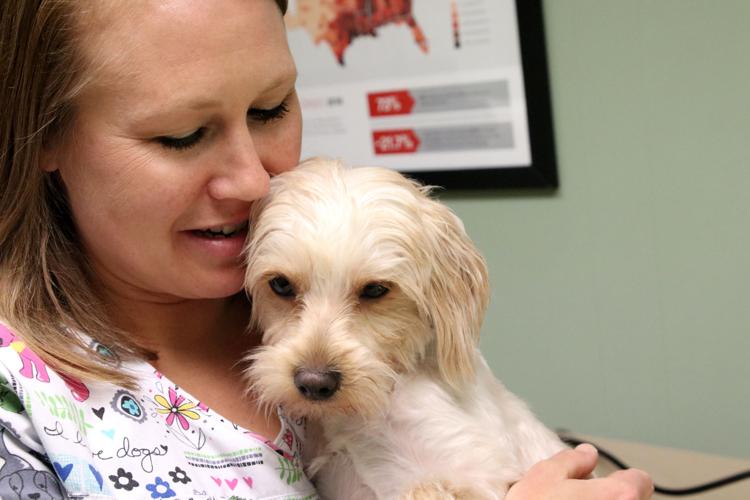 Dr. Kira Kautz has been a veterinarian at Westfield Small Animal Clinic since 2011. To hear her tell it, first-time pet owners make up "lots" of her clientele, she said in her office at 1821 West A St. in North Platte.
Kautz and others in the surrounding area highly recommend you go through a rescue or shelter to pick your new pet. Both will tell you your new dog's veterinary needs, Kautz said.
If you've obtained a brand new puppy, bring it to the vet within 72 hours, Kautz said. Here, the vet will give your pup a "full physical exam," Kautz said.
This includes checking your puppy's eyes, its mouth for conditions like a cleft palate or an overbite, and the dog's teeth.
The vet will also check the dog's ears, hair coat and skin, which, if your dog is a rescue, gives a wealth of information. The dog's skin and coat condition is a "good nutrition indicator" of how your dog was fed in its last setting, Kautz said.
Your vet will also check your dog's lungs and search for heart murmurs, hernias, masses and anything else.
Even a pristine pup is going to have needs. Plan to budget anti-heartworm medicine, usually given about once a month. Heartworms are a parasite that settle in a dog's heart and major vessels. These are carried by mosquitoes — the kinds that live "in the corners of your house in January," Kautz said, "so they don't ever go away."
While North Platte and its surrounding area is considered a place where heartworm is endemic, you should still keep up on your dog's anti-heartworm medication anywhere you go, Kautz said.
Also keep your dog up to date on annual exams and vaccinations to avoid any further medical problems, and don't forget your dog's nail trims.
"You can try it at home," Kautz said, "but as soon as you make your dog bleed, they'll never let you try it again."
Once at home, you want your dog to have the best nourishment possible. A lot of this, as with humans, depends on the dog, Kautz said. Some dogs need a specific food that doesn't work at all for another dog.
Regardless, "they should receive a food that's all one color," Kautz said.
Your dog's fur should be "nice and shiny," and her stools should be nicely formed, not too hard or squishy, Kautz said.
How much else to budget for your new canine companion will "completely depend on what we find," Kautz said.
Some puppies have heart murmurs. Rescue dogs may have dental problems. Others need special diets.
Special foods and medications could cost $90-$150 a month, but that varies from dog to dog, Kautz said.
In the case of emergency, there is help. Your vet can refer you to organizations that help you if, say, your dog gets hit by a car or another emergency arises. Some vet offices keep a special fund to help in pet emergencies too, Kautz said.
"We don't want to be heartless and say no, we can't treat your pet," Kautz said. But medical treatment costs the vet office, too.
The last thing you want to do for medical upkeep? Spay or neuter your new best friend. Many rescues offer a coupon for this procedure, making your canine unable to breed, while others do the procedure for free.
"In 99 percent of cases, there's no reason to breed your pet," Kautz said.