One of Pat and Lori Clinch's entrepreneurial stories tells a straightforward tale about launching a bread-and-butter business most every community needs.
The other does none of those things. But it's a lot more fun.
Pat Clinch Construction, which Pat founded in 1980, still pays the couple's bills. But they're likely better known for Grain Bin Antique Town, their unusually housed enterprise next to their home off Old Highway 83 Road, 10 miles south and east of downtown North Platte.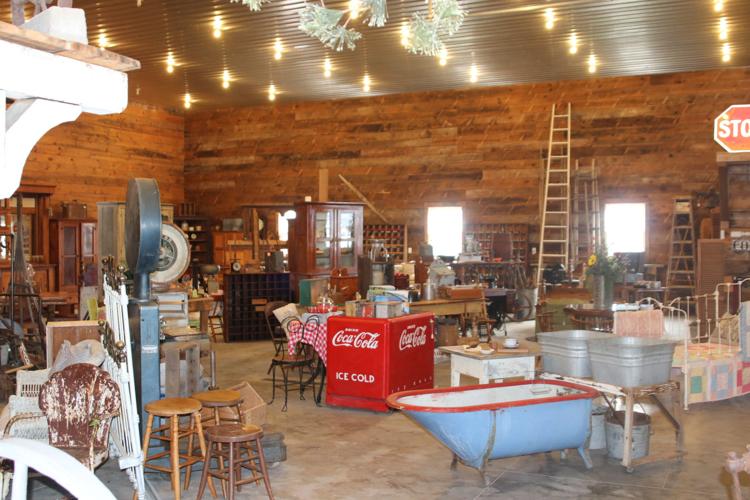 Well, Lori might be better known for that. But Pat's the one, she insists, who suggested seven years ago that they turn their love for antiques and his fascination with mid-20th-century wooden farm bins into a tourist attraction.
One day, "a lady leaned over at the counter and said, 'How did you talk your husband into buying all of this?'" she said. "I said, 'It was 100% him.'"
Grain Bin, a 2016 choice for the statewide Nebraska Passport program, surrounds the Clinches' main shop with 20 of the octagonal bins. The business offers antique "primitives" from the 1970s or earlier.
The bins are weathered on the outside, but each has been remodeled inside. They're close enough to I-80 to draw antiquing fans off the freeway in addition to buyers and sellers who contact them online, Lori said.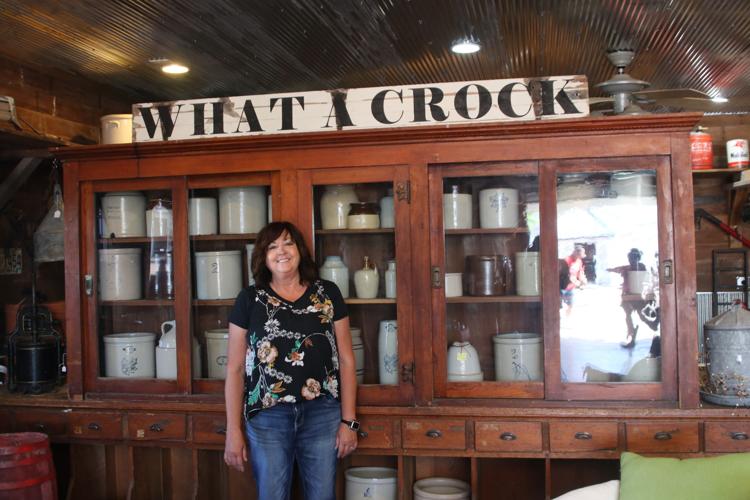 "We haven't had to visit an estate sale or an auction since we opened," she said. "People come out here a lot and invite us to their homes and farms. And people bring stuff to us a lot."
Grain Bin blossomed out of serendipity. But it couldn't have sprouted without the old-fashioned hard work Pat Clinch poured into his construction business years before he married the former Lori McEntire in 1991.
Pat, 61, graduated from St. Patrick High School in 1976. He split his college years between the north campus of North Platte Community College (then Mid-Plains Voc-Tech) and Kearney State College, receiving a bachelor's degree in construction from the future University of Nebraska at Kearney.
He had a well-known family name thanks to his uncle John Clinch, who launched Clinch Flying Service in 1938 at the airport that three years later would be named Lee Bird Field.
John Clinch, a 1991 inductee into the Nebraska Aviation Hall of Fame, managed the airport for 13 years and trained hundreds of naval air cadets during World War II.
Pat's dad, Patrick Sr., flew and taught alongside his brother.
But "my dad was always building things, too," Pat Jr. said. "He built his own house."
Pat Jr. never got his pilot's license, but "I always had an interest in building." He built up Clinch Construction by word of mouth, using lessons he had learned from his professors and North Platte builder Warren Schultz, for whom he worked during college.
Clinch Construction focuses on home construction and remodeling, he said, though its projects have included Feather River Winery a few miles north and the Martin Cordes kindergarten addition at McDaid Elementary School.
When building up a business, it's a good idea to have another source of stable income, Pat said. That came in the beginning from managing Space Mobile Home Park (now Buffalo Bill Mobile Home Park East), which his family then owned.
Lori, 54, was a Great Plains Health scrub nurse when she and Pat married. But an acquired allergy to latex led her to start managing the couple's rental-property interests and Pat's construction books.
"He realized we couldn't afford to send me back to work, which was great because I got to stay home and raise kids," said Lori, a 1982 North Platte High School graduate and a freelance Telegraph columnist.
Antiquing runs deep in Lori's blood. A great-grandmother, grandmother and several aunts and uncles have all been dealers. "They didn't necessarily have antique shops, but they bought antiques and sold antiques," she said.
She married a kindred spirit, too: The Clinches went antiquing on their honeymoon. But though they've collected antiques for years, Lori resisted getting into the business because "I'd be like an alcoholic working in a bar," she said.
If that's so, blame Lori's husband for incubating the disease.
She was looking at The Telegraph's want ads in the winter of 2011-12 when she spotted an octagon wood grain bin for sale south of Paxton. Most bins of that type, Lori said, were built from kits developed in the 1930s and 1940s near Wahoo.
Their original grain bin holds antiques now, but Lori and Pat first planted it as a sitting room north and east of the house they built in 2003 on their 50-acre property.
"We'd just go out and sit in there, and it's super-cute," Lori said. "It was just darling, and everyone loved it."
The following June, the Clinches accompanied Pat's brother Jerry and his wife, Judy, to look at a private plane for sale near Imperial. As they drove by Palisade, they passed by a farm with 14 of the short octagonal bins.
"Pat was so giddy," Lori said. "He's a builder, you know, and he just loved the whole concept of these grain bins. He just kept thinking about them, and he said, 'Let's send the farmer a letter and see if he wants to sell any of them.'"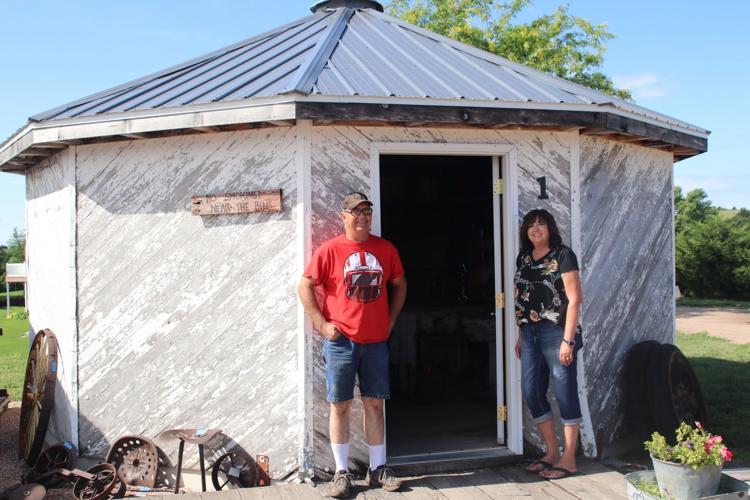 Their letter couldn't have been better timed. The farmer, Dolan Smith, "emailed us right back and said he would love to sell them. He told me later he had considered burning them and burying them because they weren't using them anymore.
"His wife said, 'Let's pray about it,' and three days later they got our letter."
So the Clinches drove to Smith's farm, with Lori expecting they'd buy one more bin for their place and one apiece for a couple of their neighbors.
Pat bought all 14.
"We got in the car, and I said, 'What the heck are you doing, Pat?'" Lori said. "He said, 'I've got this idea: Why don't we make an antique shop out of them?'"
That's basically right, Pat said, but there's more to the story.
"Once we saw the inside of them and the beadboard on the ceiling and how good a shape they were in," he said, 'I thought, 'Let's buy them all.'"
Besides, Smith's grandfather had been an antique collector. "He had some antiques in this (grain bin) building. That idea spurred our idea. And Lori always had a love of antiques. I told her, 'Instead of just collecting them, let's start buying them to sell them.'"
After a year's worth of work — which began by hauling the bins north, one or two at a time — the Clinches opened Grain Bin Antique Town in August 2013 with six of their first 15 bins remodeled and stocked.
"We just thought we'd open once in a while when we got a knock on the door," Pat said. "I had a love for the buildings, so I didn't care if we made a business of it or not."
But Lori had started a Facebook page to announce when Grain Bin would open. That's all it took.
"I didn't realize the (North Platte/Lincoln County) Visitors Bureau was watching us," she said. The tourist organization brought Telegraph and KNOP-TV reporters with them, and "the next day the doorbell rang at 9:15. And I was here all day."
They haven't looked back since.
"It quickly became obvious we were going to need some help," she said. Within a month, the couple hired longtime friend Terrie Mooney of North Platte. She's the longest-serving of Grain Bin's two full-time and four part-time employees.
The Clinches restored the rest of the first 15 bins, then bought five more from sites near Stapleton, Arnold, Grant and Lake Maloney. Five of the final 20 bins were rented to vendors, but only two still are, Lori said.
Grain Bin's inventory has spilled over into three-fourths of the neighboring steel building Pat once used to store construction equipment. He still uses its back rooms to repair and prepare antique furniture pieces for sale.
Pat and Lori don't expect to add any more grain bins, she said. They don't expect to sell any of them, either — though a lot of people ask.
"We told our (four) sons (that) if they take over this business and want to do something else, these bins are totally sellable because everyone wants them," Lori said. "One son said, 'We'll never sell this place, Mom.'"
As Pat learned how to build a successful construction business, so has Lori developed her own wisdom about successful entrepreneurship from Grain Bin's success.
"You're going to have to spend a lot more than 40 hours a week," she said. "You have to live and breathe it. And you need to surround yourself with good people you can trust."
Above all, "don't be an old person and look back on (an idea) and say, 'I wish I had.'"