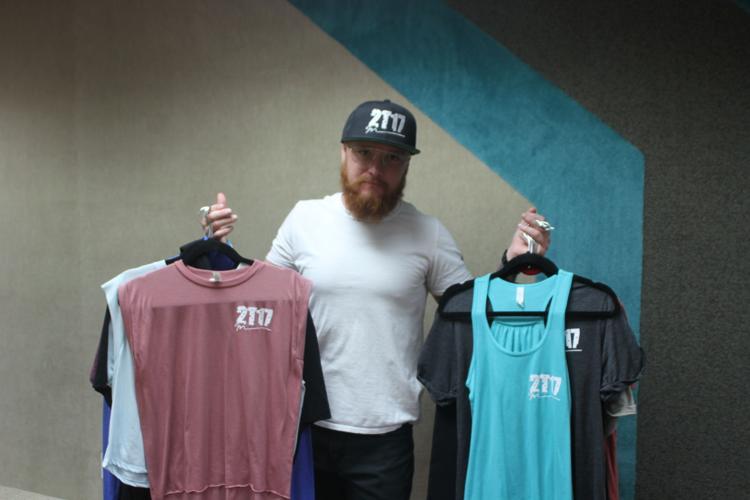 Greggory Mooney's struggles with alcohol abuse, among other things, led him back to his faith and inspired him to start a Christian apparel brand called 2T17.
The brand name 2T17 stands for the Bible verse 2 Timothy 1:7: "God is not giving you a spirit of fear, but of love, power, and a sound mind."
Mooney said this Bible verse has been the one that has stuck with him — the idea of living without fear and living out of your comfort zone.
Mooney said he has had the company 2T17 for about a year and three months, and the slogan is "promoting the battle scars of life and wearing them proudly."
Mooney, 32, is a North Platte resident and former Marine. He said he had a dark past: He was an alcoholic and binge-drank to the point of blacking out, did multiple drugs in college, got divorced, was arrested multiple times and was looking for pleasure in sex and alcohol.
Mooney said most people wouldn't think of him as a man who wants to spread the word of God, because of his tattoos, the way he dresses and the things that he has done. But he said those are the things that brought him closer to God.
"Sometimes to get that power, love and a sound mind, you have to be drug through the mud of life," he said. "You've got to be scared, you got to be beat up and bruised and have a couple of mental and physical wounds."
The 2T17 logo has chunks missing and bullet holes. That imperfection represents how people should wear their scars and embrace them, he said.
"Most people's scars are emotional, mental — since you cant see them, no one knows what you are going through," Mooney said.
Mooney said he has had multiple failed businesses, but has known he has always wanted to run a business. He said he started 2T17 in 2018 while trying to put on a charity cycling event in North Platte to raise money for wounded veterans. Mooney was training to ride 100 miles a day for 150 days.
"I don't know why I started 2T17, because it had nothing to do with the event," Mooney said. "Usually if you are going to have a cross-country cycling event you are going to write "cross-country cycling event" across the shirt."
Due to an autoimmune disease breakout that put Mooney in the hospital, he said, the charity event did not happen, and he had to refund a lot of money. That caused nothing to happen with the clothing company for a few months as well.
A few months after the planned cycling event he was having some success with 2T17 and had a realization, he said.
"I was driving home from work and it hit me: I wanted to do this business whether I made money or not," Mooney said. "Money doesn't motivate me — purpose motivates me. If I could write everything off at the end of the year and break even, I'm good to go."
Mooney recalls the whole first year being mistake after mistake. He said he learned things about quality and what he wanted from the brand. He learned how to work with distributors, market his brand and create unique designs.
Mooney said he has scrapped everything in the last couple of months because he wasn't happy with the product. He switched to what he felt was a softer, better material, along with a cleaner design.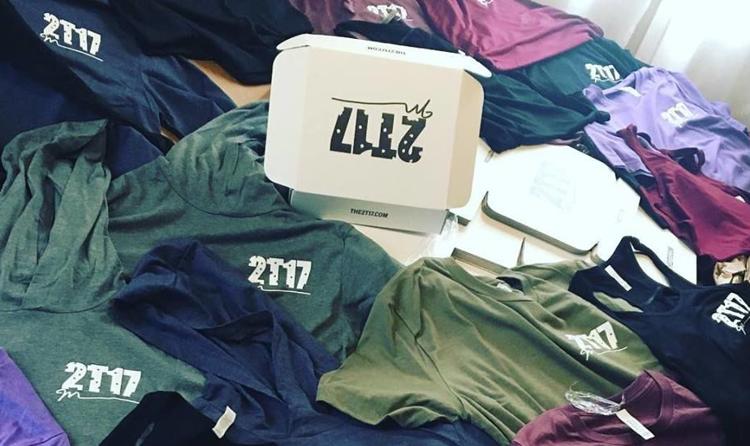 "I want to make something that lasts, I want to have a legacy," Mooney said. "I want the customers to be satisfied with he clothes they are wearing."
Mooney sponsors local athletes by taking them to competitions — mainly cross-fit — and he has them wear the gear and put pictures on their social media to promote it. He said that he connects with the athletes and that has been whom he identifies with, but the clothes can be for anyone who identifies with it.
"I don't have to push it. People come to me and connect with it because they believe in the underdog cause," Mooney said.
Mooney said he has ducktail shirts, crop tops, T-shirt hoodies, thin long-sleeve hoodies, regular T-shirts, cuffed shirts and tanks.
Mooney said he was growing financially but wanted to create a design and process that made his brand stand out. He wanted 2T17 to have the highest quality material and be something that made people stop and turn their heads.
"I have been promoting the brand organically, and while my website has been down, I have had people subscribing daily," Mooney said. "People identify with message and quality. If you have a product with good quality, it will sell itself through word of mouth."
Customers can browse apparel and place orders at the2t17.com. Mooney also highlights the brand on Instagram (2t17llc), Facebook and Twitter (@The2T17).