MAYWOOD — Whether or not they gave their lives or ever went to war, America's veterans of all eras deserve their nation's thanks, a decorated U.S. Marine reservist and Nebraska State Patrol trooper told schoolchildren Friday.
Gunnery Sgt. Sam Mortensen, who was raised in and lives near Curtis, honored all who have worn the nation's military uniforms in giving the main address at Maywood Public Schools' 22nd annual Veterans Day program.
"Many veterans have served and made a great sacrifice, while maybe not the ultimate sacrifice," said Mortensen, who joined the Marine Reserves in 2005 and served a year in Iraq in 2009-10.
"They returned from war, broken and scarred, physically and mentally in some ways that we may not know or ever be able to see."
Mortensen reminded the adults and children of all ages in Maywood High School's gymnasium that Veterans Day recognizes everyone who has served in the U.S. military.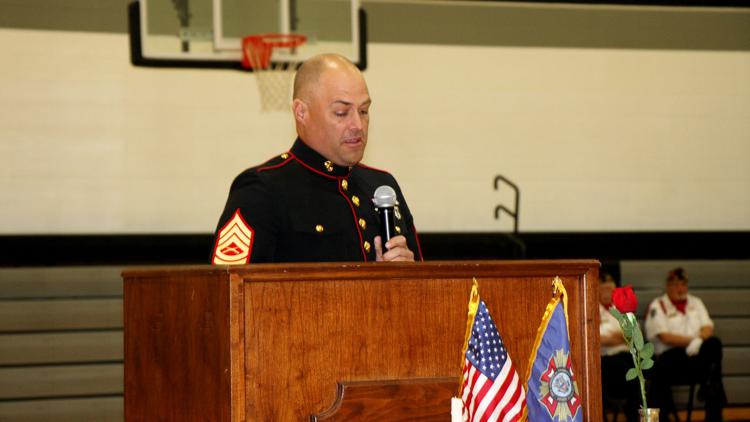 "Every one of those individuals who have worn this uniform has stepped forward and offered their life in the defense of this country," the 17-year State Patrol trooper said. "A lot of focus is placed on those veterans who have served in combat. We owe as much of a debt to those who have served in peace."
Mortensen, a 1997 graduate of Medicine Valley High School in Curtis, was accompanied by his wife, Lacy, and 4-year-old daughter Julia, the youngest of their four children.
As a traveling State Patrol carrier enforcement trooper, he was honored at an October 2018 White House ceremony for his role in confiscating a then-record 118 pounds of fentanyl during a traffic stop the previous April near Kearney.
Mortensen personally thanked the veterans in the gym, including 1938 Maywood High graduate and 99-year-old World War II Army veteran Robert Furrow of Curtis, for setting the example for today's military members.
"The heritage you have passed on to the next generation of soldiers, sailors, Marines and airmen is a debt that cannot be repaid," he said.
He urged his audience to "strive to make your community and nation a better place every day" and vigorously exercise the rights veterans have secured and defended for them.
"Make no mistake: We're very fortunate to live here in the great state of Nebraska," he said. "We get to live the small-town rural life And, for the most part, we're free to do as we please, as long as we don't infringe on anyone else."
He warned against people within and outside the United States "who would take that freedom away and force you to conform to their point of view" and "impose their ideology on the rest of us under the name of equality and fairness."
Despite their efforts, Mortensen said, Americans "do not experience the oppression that the citizens of other countries are subject to. We're free to live our lives as we see fit.
"There is no other country that is as free as we are, and the myth of oppression in the United States is just that: a myth."
Vietnam-era Navy veteran Gary Bush of Ogallala, immediate past Nebraska Veterans of Foreign Wars commander, led the state's VFW Color Guard in posting and retiring the colors.
Bush also explained the items on the "POW/MIA White Table" placed and set in front of the program's podium to commemorate the more than 85,000 military members unaccounted for from World War II to the present.
Co-organizer Adrienne Johnson, a retired Maywood art teacher, invited the audience to applaud two Maywood High seniors who have enlisted in addition to the event's veterans and active-duty service members.
Jack McIntosh will join the Marines after graduation next spring, while classmate Ryan Canann will join the Army.