First night jitters didn't seem to materialize as the 2019 Miss Nebraska candidates strode onto the stage at various times with confidence and determination.
The Preliminary On-Stage Interview Award went to Miss Nebraska State Fair Allison Baird and the Preliminary Evening Wear Award went to Allie Swanson, Miss Heartland. Both candidates were excited about winning their respective awards.
"This is the evening wear award that is combined with the social impact statement this year, which is a change from last year," Swanson said. "At the end we got to share a little bit more with the judges and the audience about our social impact, which was really great."
Swanson said winning the award was an accomplishment borne out of the hard work the candidates put in throughout their preparation.
"You're in the rehearsals all week — blood, sweat and tears go on the stage," Swanson said. "To finally have that moment happen is awesome."
Swanson's social impact statement is CyberSmartz: Protecting Yourself in a Digital World.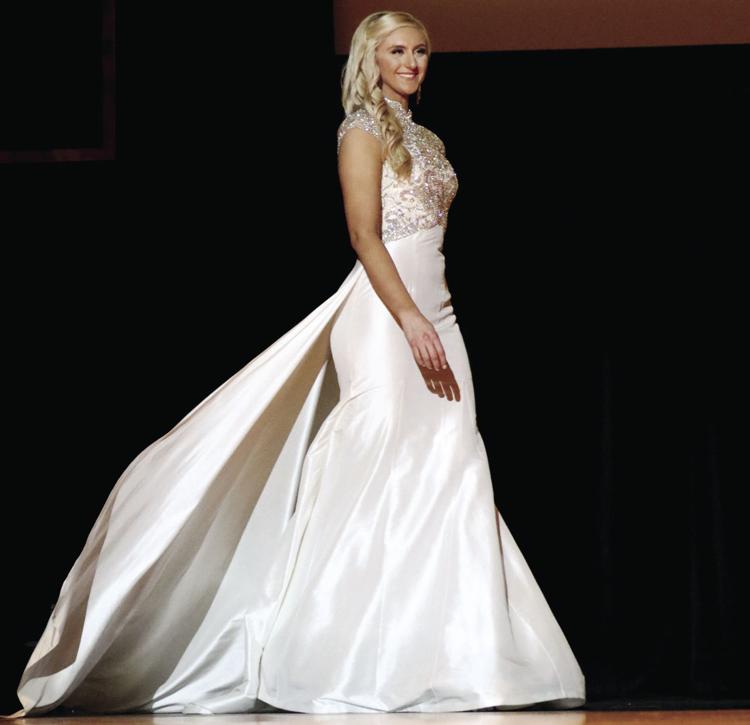 "I had a few incidents myself in college where I had my identity stolen and I was cyberbullied," Swanson said. "So through those experiences, it really made me passionate about others not going through what I had to and to really understand social media safety."
Baird said it is exciting to win the first ever On-Stage Interview Award.
"I got to talk, not only about my social impact initiative, but also about current events," Baird said. "At the end of the day, it is really what this organization is about, about articulate women who are empowered and empowering others."
Brook Hudson, Miss Nebraska 2004, and Chance Schilling, 2018 Mr. Habitat, were the emcees and Hudson said she was impressed with the talent and confidence of this year's candidates.
"They're so into it," Hudson said. "Everyone of them nailed the onstage questions, their platforms and social impact statements."
Hudson is the producer of Omaha Fashion Week, a business started by her husband Nick, which she joined in 2011. She said being involved with the Miss Nebraska Program helped her grow the business.
"For one, it gave me courage," Hudson said. "Getting out on stage and doing what these girls do takes a lot of courage and a lot of hard work and preparation."
She said all those attributes she learned through the program have been very helpful.