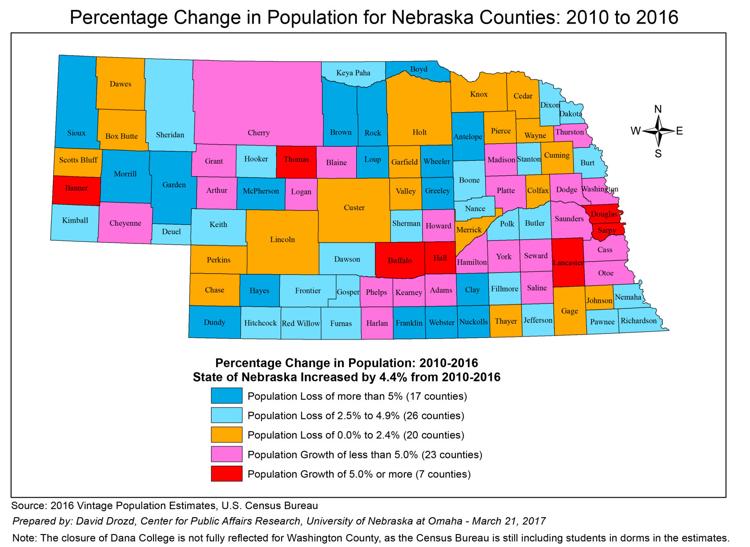 The good news is that Lincoln County population dropped just 2 percent from 2010 to 2016 while losing a state-high 738 people, according to U.S. Census Bureau statistics.
Nebraska as a whole has gained more than 80,000 people since the 2010 census. Overall, the data do not show any falloff for rural areas, a researcher said.
"In fact there are a few data points that indicate some strength," said David Drozd, research coordinator at the Center for Public Affairs Research at the University of Nebraska at Omaha. "No. 1, these estimates, which supersede previously released data, show that 31 Nebraska counties gained population from 2011 to 2012. That has steadily increased to 35 counties from 2012-13, then 42 from 2013-14, 43 from 2014-15, and it is 44 counties gaining population in the most recent year from 2015-16."
He said those additional counties growing recently would tend to be more rural, since most of the highly populated counties grow every year.
The situation isn't as positive in Lincoln County, however. "Like most of the micropolitan counties, Lincoln County has more births than deaths, but a net outmigration is hurting it," Drodz said. "All the micros besides Kearney are having net outmigration." Micropolitan counties have less than 50,000 population but have a core city of at least 10,000.
Lincoln County's net migration since 2010 is a negative 1,189, ranking it third worst among all Nebraska counties — Dakota and Dawson counties are the worst.
"That led to Lincoln County losing a larger number of people than any other county in the state," Drodz said. "As a percentage change, that's only a negative 2 percent, ranking it in the middle of the pack among Nebraska counties at 44th best."
The estimates show Lincoln County has lost population in five of the six years so far this decade.
Gary Person, CEO and president of the North Platte Area Chamber and Development Corporation, said the statistics bear out his analysis of what needs to happen in Lincoln County.
"It validates we've got some work to do," Person said. "There's probably a lot of contributing factors, but certainly a down economy would impact that for sure."
The counties that remain steady are those such as Lancaster County, which is aided by stable jobs, according to Drodz.
"It goes back to the point that you've got to have a consistent delivery of workforce recruitment, business and industry recruitment, and housing development," Person said. "As someone coming from the outside in, it seems there's been an atmosphere created that has targeted incentive programs like tax increment financing as something that's bad."
Person said the statistics prove the need for an aggressive approach to recruiting in all aspects of the community.
"If you're not trying to go out there and do everything you can from a development standpoint and use every economic development tool that's available, these kinds of things are going to happen," Person said. "So, you have to work very hard just to maintain in today's world because families are smaller, workforce issues are a lot more complicated, you have online shopping that's hurting your brick-and-mortar folks."
Drodz pointed out some factors that lend to a shifting of the negative trend, especially in rural counties.
"There has been concern that rural counties would see worse population trends given the fall-off in commodity prices," Drodz said. "Population factors did improve in rural territory from 2008-10 as commodity prices and farm profits increased. Perhaps that was tied to general relative strength when Nebraska was riding out the recession better than most other parts of the country as well."
Person said it will take more than just one segment of the community to reverse the trend.
"It's going to take all of us working together to get this cycle turned around," Person said. "I think we can do that, but I think people are going to have to embrace the fact that we have to be creative and we have to be aggressive to get it resolved."