On Christmas, Michelle Carrizales spoke to two of her children, who live with their father in Denver. They would be eating Christmas dinner with their aunt soon, then heading to the park.
Carrizales spent Tuesday in the Lincoln County Detention Center. She's charged with distribution of methamphetamine, receiving stolen property and, because of the drug charge, child abuse.
"It doesn't feel like Christmas," Carrizales said.
Having nine siblings, "we're really united." They spend every holiday together.
When Carrizales spoke to her mother earlier, she said she received a message of tough love: "If you would've kept your head up, you'd be here too."
Still, Carrizales' mother was hopeful: "'Maybe next year, you can be here.'"
Carrizales is hopeful too. She's awaiting a bed to open up at a treatment facility in Lincoln. She then hopes to spend time in an aftercare program to receive custody of her youngest daughter, 5, who is in foster care.
In all of 2018, "I've only spent three months out," Carrizales said. "It's a tough lesson learned."
Carrizales said she had good parents who provided for her and never touched drugs.
"It was the time of my life," she said of her upbringing. "The last five kids, we were the rebels."
In jail Tuesday, Carrizales and other inmates dined on pork loin, apple crisp, squash and dinner rolls. Earlier in the week, one church group brought the inmates cookies.
The rest of the day is spent playing cards, checkers or chess, and maybe reading or watching TV. As an inmate worker, Carrizales works in laundry. She spends as much time there as possible, to make the day go by quicker.
The worst part for an inmate, she said, is wondering — how will their case end? How long will it take?
"I know it's the not knowing that really gets the inmate frustrated," she said.
There's outpatient treatment programs to help inmates better themselves. Carrizales first attended outpatient treatment after an arrest in April. After being released the first time this year in July, she lived in a recovery house.
"Then I came back," she said.
She's been back in jail since September, after being arrested on suspicion of violating her conditional release requirements.
"I had a lot on my plate when I got out," she said.
She juggled counseling, Alcoholics Anonymous meetings, Narcotics Anonymous meetings, visits with her daughter and other aftercare programs.
Then, Carrizales relapsed. She stopped attending meetings. She stopped seeing her counselor.
"I hated myself when I relapsed," even before her subsequent arrest, she said.
Now, Carrizales thanks God she was arrested. She gets along with the jail staff and the other inmates.
She works on her recovery, and knows she has a bed and a meal in the meantime.
Carrizales knows where she doesn't want to be next Christmas. She doesn't fear relapsing again.
"I don't know the pain that my daughter's going through," she said. "It's a pain I'll probably never understand, but it's a pain I do want to take away from her."
Spencer Tepe, who will be released from jail in March for his fourth DUI, also missed the tradition of the holidays.
"I miss my family a lot," he said. "I miss my freedom, mostly."
Outside of jail, Tepe would have hung out with his family, opened presents and ate Christmas dinner. He planned to have a video-chat with his family, who lives in Lincoln, later in the day.
Like Carrizales, Tepe is an inmate worker. He got to help hang Christmas lights. It was another tradition that resonated with him.
"It was nice because I usually helped my parents," he said.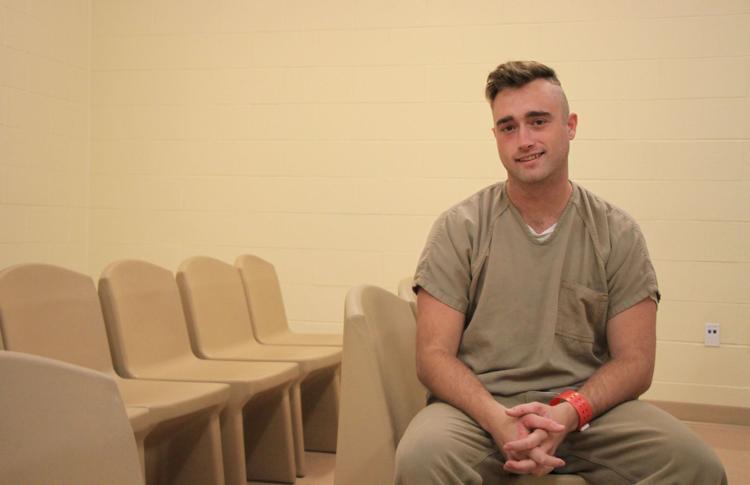 Tepe said he's also learned from his arrest, and wants to be with his family next year, instead of in jail.
"It's not a place to be on Christmas," he said.
Both inmates said that good relationships with staff help make the holidays — and time incarcerated — smoother.
Sgt. Penny Ball said this is emphasized in the training that jail employees undergo.
Inmates "still belong to somebody," and Ball sympathizes with them.
The lights go on and off, the TV goes on and off, and everything else in jail happens "on our schedule," she said.
"I've had family members with addictions. My grandkids have been affected by relatives with addiction. I think society has a view that only bad people are in jail," she said.
Ball said that many of the jail's employees could have been incarcerated at a different time in their lives.
"It's a possibility for any of us," she said. "All walks of life have been through these doors."
This was Ball's 13th Christmas away from her family, working inside the jail. She celebrated Christmas on Saturday with her grandkids, opening gifts and decorating cookies. Then, her husband was off to work at Union Pacific Railroad, where he also worked Tuesday.
At Thanksgiving, Tristan Houlden, a detention officer who's worked at the jail for almost a year, said he saw the negative impact the holidays can have on inmates.
"I saw the toll it takes on some of them," he said. "Being away from family, not being able to do what we do."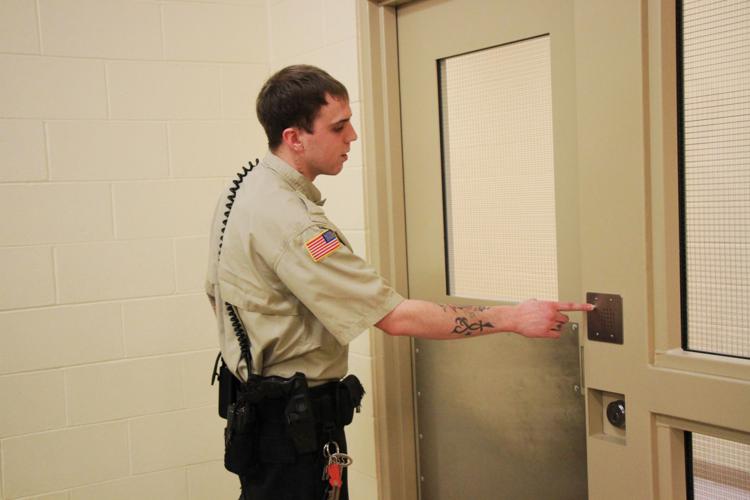 When detention officers see inmates upset or down during the holidays, he and Ball said it's best to talk to them, and listen to them talk about their struggles. When he first started his job in January, Houlden said he didn't know how to handle that part of the job, but training helped him be able to connect more.
Ball said she relays one common message: "This is just temporary."
In the long run, "if it makes everything at home better, this served its purpose."