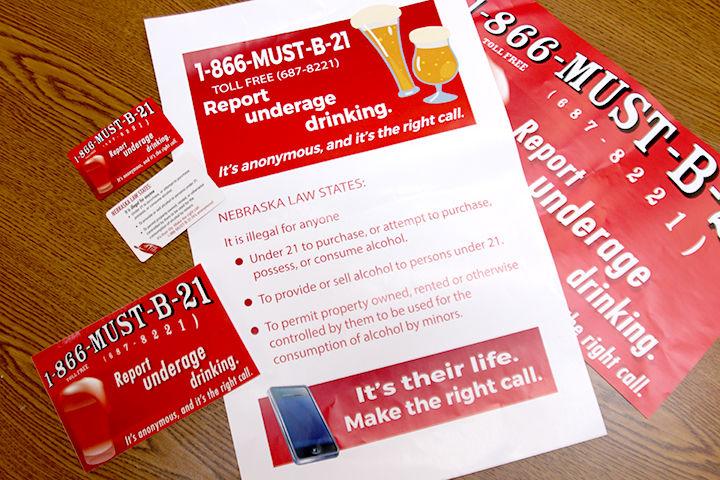 Providing alcohol to someone under 21 years old may seem like a minor offense, but it can quickly become a serious problem.
Jeremiah Johnson, school resource officer with the North Platte Police Department, said procuring alcohol to a minor is a class I misdemeanor and is not waiverable. That means the person charged must appear before a judge. If serious injury or death results from underage drinking, the adult who provided the alcohol can be charged with a Class 3A felony, Johnson said.
Amanda Speichert, deputy public defender in Lincoln County, said the sentence for procuring alcohol to a minor starts with 10 days in jail. She said a procuring charge can follow a person throughout life and prevent employment in many occupations, such as medical, social services or education fields.
There can also be a lot of other consequences, she said: "You don't know what's going to happen once those children leave your home."
She said the situation becomes especially risky when it involves a minor who is not the child of the person who provided the alcohol.
"You don't know their medical history, their background, where they're going to be," she said. The provider is taking on risks that he or she is not even aware of, and that can have consequences from a legal and liability standpoint, she said.
Johnson said it is easy for minors to get alcohol and other drugs, such as prescription opioids, and some may mix the two, which can add to the risks.
Marlo Roberts is the coordinator of a local coalition that is working to raise awareness about underage drinking. She said drinking by 10th- and 12th-graders in Lincoln County rose by 10 percent from 2014 to 2016. The data is from a the Nebraska Risk and Protective Factor Student Survey, which is administered by the University of Nebraska Bureau of Sociological Research on even-numbered years in schools across Nebraska.
In the 2016 survey, 27.8 percent of 10th-grade respondents in Lincoln County said they had consumed alcohol in the past 30 days. The number for 12th-graders was higher, at 35.9 percent.
The coalition, called Substance Abuse Prevention System operates under Community Connections, a nonprofit organization. Roberts said SAPS just launched a public awareness campaign called "Must Be 21."
She said if people learn of parties or other situations where minors are getting alcohol, they should call 1-866-Must-B-21, and they can remain anonymous. "It's the right thing to do," she said.
Often youth get alcohol from friends or even family members. Johnson said a typical scenario is a youth offering $20 for someone to get a case of beer for him.
"Is the minor's life worth (more than) $20?" he said.
In another scenario, a homeowner may offer beer to a minor who is a technician and has just completed a repair. The homeowner may think the technician is over 21. However, that is not a legal defense, Speichert said.
Roberts said there are over 90 alcohol outlets in Lincoln County, including bars, liquor stores, convenience and grocery stores, and restaurants. She said SAPS is contacting each of them to provide a packet that includes posters, stickers to place on beer coolers, and information to place on their counters. She said the organization hopes to raise awareness among store clerks and customers.
Drinking by minors is serious because their brains do not become fully mature until as late as age 25, said Roberts. Youth are more likely to take risks and act impulsively anyway, she said, but alcohol affects the way they think and the way their brains develop.