BEDFORD, Va. — Elmere Wright was looking forward to a career in professional baseball before the United States got involved in World War II. The local baseball standout had just signed a AAA minor league contract with the former St. Louis Browns before Wright and 34 other Bedford natives were called to go overseas and fight in the war.
"No doubt he would have been a professional baseball player," said Ken Parker, the curator of the Company A Bedford Boys Tribute Center, located in the former Green's Drug Store at the corner of North Bridge and Main streets in Bedford. "He went overseas and helped win the European Theater of Operations World Series in 1943."
Wright was one of the 19 "Bedford Boys" who were killed on June 6, 1944, trying to take Omaha Beach as members of Company A of the 116th Infantry Regiment. He never returned home to resume his baseball career. However, the glove that Wright used playing baseball in Bedford and took to the war with him has come back to Wright's hometown.
"Things are finally coming full circle," Parker said Thursday at the tribute center. "The memories of these boys have finally come home where they belong."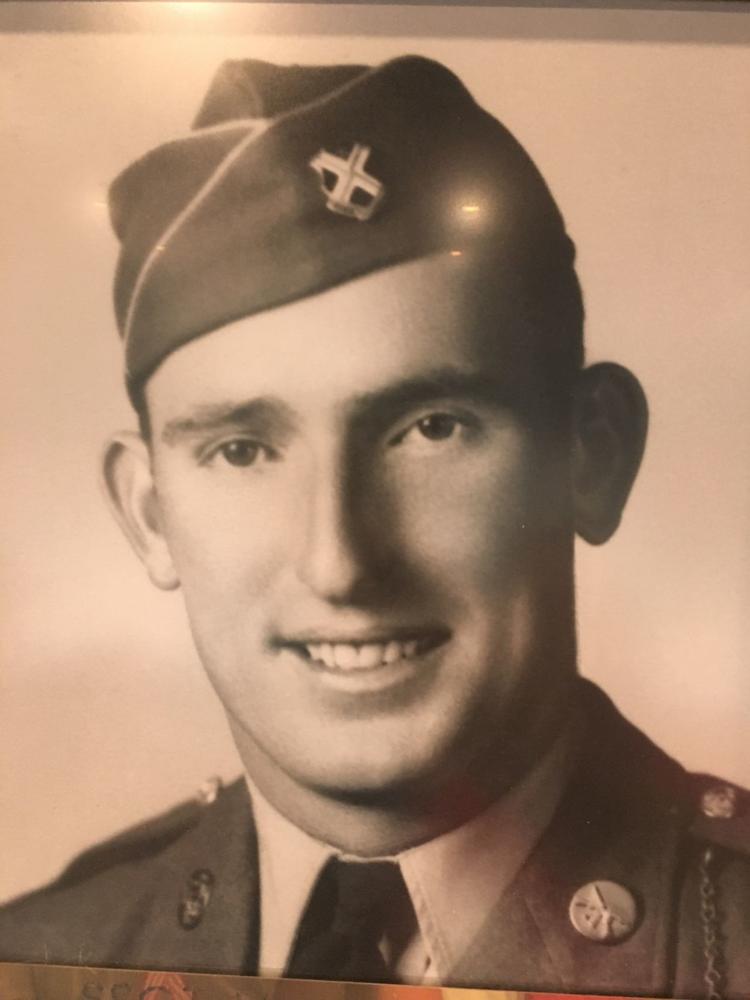 Since dedicating the site of the former Green's Drug Store in Bedford to the memories of the Bedford men who served during World War II and the families they left behind, Parker said he and his wife, Linda, have received an "overwhelming" amount of personal effects of the soldiers who were killed during the D-Day invasion and the ones who made it home after the war,
"It's been incredible," Parker said. "There are things here that haven't been seen in more than 70 years. These are some of the things these boys carried to war when they left Bedford in 1941 and were with them until they were killed on June 6, 1944.
"I am just blown away with the families' willingness to share these treasures."
***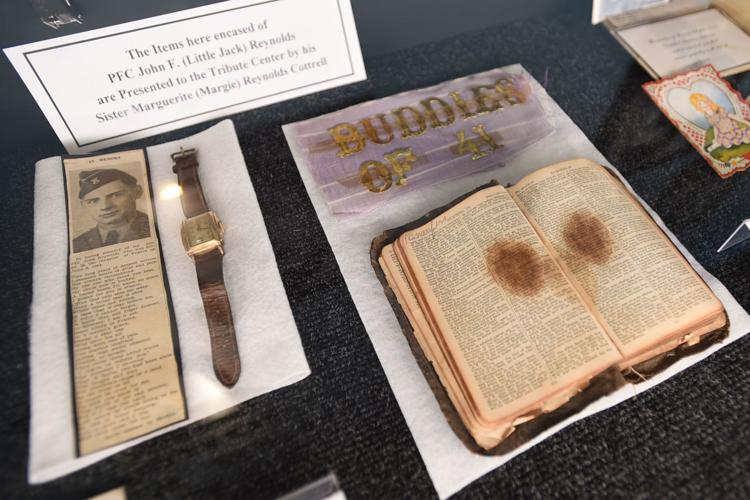 Parker said soldiers carried much more than weapons and uniforms when they were sent to the war.
"The things they took with them tell so much about who they were," Parker said. "A lot of these things were parts of Bedford that they took with them to Europe."
Jack Powers took a guitar — now displayed at the tribute center — that he enjoyed playing while overseas; Wright's baseball glove also was donated by relatives. Army manuals, waterproofed books, pictures of family and letters from home have been sent to the tribute center by friends and family.
"We even have playing cards that were issued to the troops that have silhouettes of Allied and enemy ships," Linda Parker said. "I had never even heard of these but they issued them out to servicemen so they would become familiar with what the different ships would look like on the horizon."
Parker said these items give a better story of the 35 young men that left Bedford in 1941 to fight in the war.
"This really brings them to life for me," Parker said. "This shows that they were more than names. After talking with the families of these men and seeing the items that have been entrusted to us, I can begin to get a sense of who they really were and how their loss almost brought this town to its knees."
***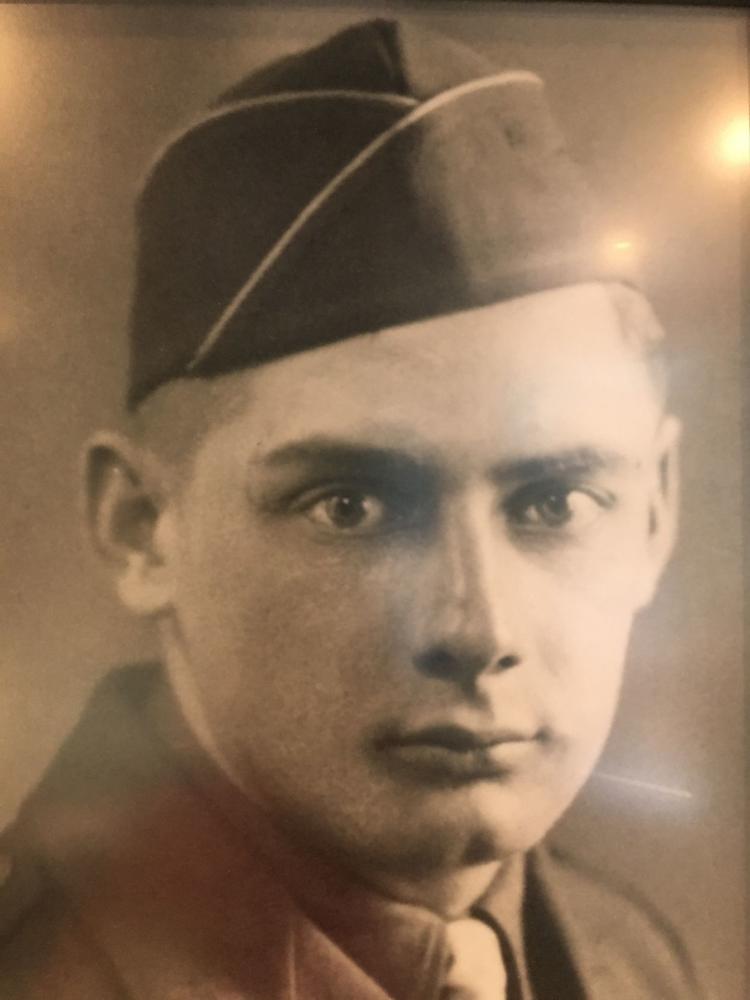 At five-foot-five and 112 pounds, John Reynolds always was known as "Little Jack" by friends and family. Reynolds was selected by Lt. Ray Nance to serve as Company A's "runner" — a foot soldier responsible for carrying messages during battle.
"He could run like a jackrabbit from what I have been told," Parker said. "He was going to be the go between units during the invasion."
A few days before the D-Day invasion, Nance received a new watch and Zippo lighter he had ordered months earlier. He decided to give Reynolds the new watch and keep his old watch so Reynolds could coordinate the times of the messages he would be running between the officers during the invasion.
"My father had a watch that was still in good working order, so he decided to give Reynolds the new watch that was shipped to him," said John Nance, the son of Ray Nance. "He told Reynolds that if he ever asked for the watch he could give it back to him."
Reynolds was killed during the first few minutes of the June 6, 1944, invasion of Normandy and the watch was sent back to his family in Bedford.
Reynolds' sister Marguerite Cottrell recalled meeting Nance years later and asking him about the watch he had given her brother during the war.
"He [Nance] told me he told Jack that he would ask for it after the war," Cottrell said. "He told us to keep it. That was one of the things my mother held on to after the war that belonged to my brother."
John Nance recently donated the watch his father kept — so he could give Reynolds the new watch for the invasion — to the tribute center. The two watches now rest about 30 feet away from one another.
"The last time these watches were together were on Omaha Beach," Parker said. "Now 75 years later, they are here together again."
***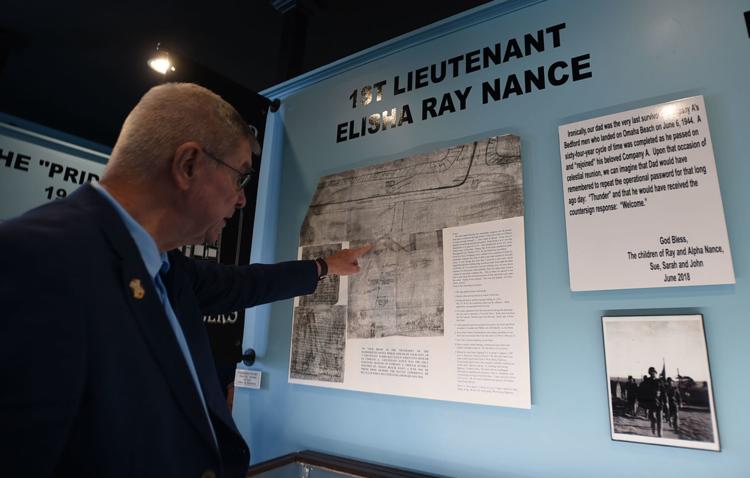 Marguerite Cottrell — who was born after Reynolds left for the war — later was entrusted with the memories of the brother she had never met.
"Jack was underage so my mother had to sign for him to enter the service," Cottrell said. "My mother always blamed herself for his death and kept all of his things after the war. She asked me to take over his things after she died because she wanted his memory preserved."
Cottrell said she decided to send her brother's belongings to the tribute center after she found Reynolds' Bible.
"I started thumbing through the Bible that Jack had over in France and I came to where his blood was soaked on the pages," she said. "It sent a chill through my spine when I saw it and I asked the Parkers if they would display his Bible and they said they would."
Cottrell said it is "a relief" to display her brother's belongings in advance of the 75th anniversary of the day he was killed in action.
"These things had been locked way for so many years," Cottrell said. "I think it's great that Ken and Linda Parker have done what they have done so the stories of these boys can be told."
John Nance agreed.
"I thought it was fitting because the story of the Bedford Boys didn't end at Normandy," Nance said of his father, who advocated for the reactivation of 116th Company A's reactivation in 1948. "I'm glad the watches are together again because the last time those watches were in my father's pocket was right before the D-Day landings."
Nance also said he is glad that the belongings of the Bedford Boys are housed in the former Green's Drug Store in Bedford, the location of the teletype machine that informed town residents of their loss in 1944.
"Once upon a time this was a crossroads in the lives of these men," Nance. "I'm glad that their memories are here together again."
Parker said the amount of items that have been coming to the tribute center since it opened last month has been "simply amazing."
"I'm almost worried about space right now," Parker said laughing. "I think the families are bringing these items out after all these years with an air of joy because it will serve to educate future generations."
---
Photos: Scenes from the D-Day invasion
On June 6, a dwindling group of D-Day veterans and dignitaries from around the world will commemorate the 75th anniversary of the invasion that marked the beginning of the end for Nazi Germany in World War II. Here's a look back at images from the Allied invasion on the shores of France on June 6, 1944: