WACO, Texas - When the U.S. Army drafted T.C. Webster in 1964, he hoped he would get any assignment that was not in Southeast Asia, where the Vietnam War was about to embroil the United States for the next 11 years.
The 1961 A.J. Moore High School graduate qualified for Officer Candidate School, but that would have required Webster to enlist for at least three years. And he wanted out as soon as possible. He did not want to be a casualty of war.
Despite his hopes, Webster, 77, ended up in Okinawa, guarding secret poison gas reserves scheduled to go to Vietnam if necessary. He still remembers the little prop plane that flew him there and the endless expanse of water beneath him during that flight.
"I fell asleep with water underneath me, and when I woke up, there was still water," he said.
On occasion, Webster and his fellow soldiers would have to check the bunkers that held the poison gas reserves to ensure they were not leaking or malfunctioning in some other way. The soldiers did this by keeping pet rabbits. They would take their rabbits in their cages and set them down in a bunker, backing out to see if the rabbit would react. If the rabbit did not drop dead in three seconds, then everything was safe. Webster said it would take nine seconds for the poison to affect humans, so the military used rabbits as a safeguard.
"He got accustomed to being on my side," Webster said. "He would turn bottom-up and start kicking. Consequently, I thought he was dying."
So, Webster put on his gas mask, grabbed the rabbit and took him down to get his blood tested.
"The rabbit didn't have anything in his blood. The next time he did the same thing. I took him down and I said, 'You're going to have to give me a new rabbit because the rabbit is going to make me kill myself,'" Webster said, chuckling. "That rabbit was the best actor in the world, but I think he just didn't want to be left alone."
Webster never named his rabbit, but he laughs now, fondly remembering his military pet. He never knew any rabbits that died as a result of exposure to the gas.
Basic training for Webster took place in Fort Polk, Louisiana. The closest town at the time was Leesville, where the soldiers would pass their free time. Webster went there to play pool, but a man at the door told him "no blacks allowed." He later bragged to his fellow soldiers that "Texas is not like that."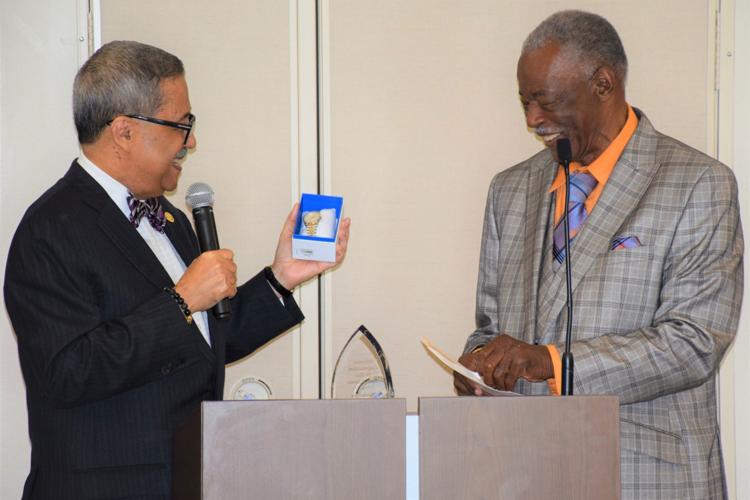 Webster grew up in Harrison's Switch on a sharecropper farm. He owns that farmland today in the historically black community southeast of Waco that was established by former slaves.
Upon graduating from basic training, Webster rode back to Texas with his fellow soldiers, and the first town they hit was Jasper, a town in the piney woods of East Texas, later infamous for the hate-killing of James Byrd Jr. by white supremacists in 1998.
The diner where they decided to eat declined to serve Webster, so he instead ate his words. Texas, apparently, was not so different from Louisiana in certain parts. Aside from those experiences, Webster said he did not experience much racism in the military. Mostly, soldiers just watched each other's backs.
"The military is hard, but it's fair," he said. "Everybody goes through the same thing."
Webster received a medical transfer back to Fort Hood, Texas, because of a condition called "flat feet" that prevents him from standing for long periods of time. In 1966, he was honorably discharged from the military.
Overall, Webster is glad he was drafted. The military ended up paying for his higher education, and he learned the value of discipline and respect for authority.
After his time in the military, Webster went on to graduate from Texas A&M University-Commerce. He also earned a doctorate of theology degree from Trinity Valley Baptist Seminary. Webster eventually moved to Fort Worth, where he keeps his primary residence, and worked for Tarrant County for 27 years. He retired in 2018 as director of operations for Precinct 1, serving seven cities.