An 11-year-old Gretna girl raced her gold Soap Box Derby car through four rounds of victories Saturday in Akron, Ohio, making her a world champion at the event.
The victory gave Kelsey Van Waart a gold ring, a $3,000 college scholarship, a trophy that's nearly as tall as its winner and bragging rights in a family with three generations of Soap Box Derby racers.
The car — which technically is colored "Austin yellow" and sports blue racing stripes, Kelsey's name and the number 38 — will be retired, landing itself a home in the Soap Box Derby Hall of Fame Museum in Akron.
A couple of generations of Van Waarts helped build the vehicle, and their years of experience helped, Kelsey said.
Good driving, "the right wheels" and "billions and billions of little things have to line up" for a victory, Kelsey said by phone Sunday as she and her family were driving back from Akron.
"I was pretty surprised," she said of the win.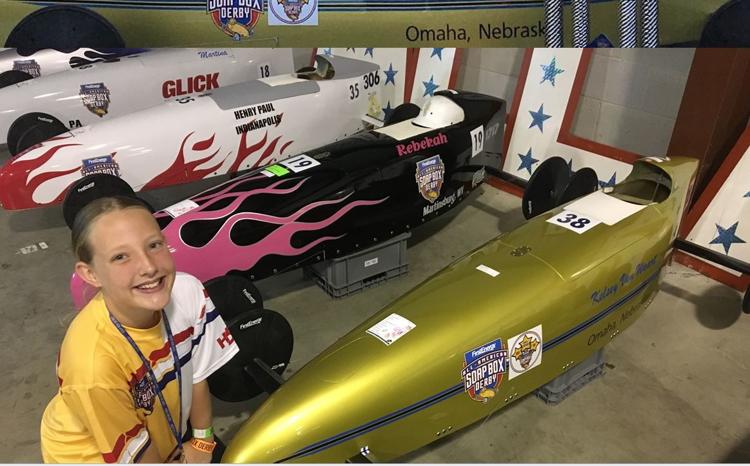 Driver skill is key, said Kelsey's father, Peter Van Waart, who raced at the Akron competition in 1988.
And "she drove well," Van Waart said of his daughter, who will be a sixth-grader at Gretna Middle School this fall.
The Soap Box Derby world championship is a familiar place for the Van Waart family, who've had family members competing in Akron as far back as 1965.
Plenty of relatives were on hand for Kelsey's win, including her father; her mother, Jessie Van Waart; grandparents Peggy and Roger Van Waart of Omaha; brother Pierce, 8, who also competed but in a different division; and extended family members Mike Lynch of Omaha and his daughter, Teagan Lynch, 13, another competitor.
The Van Waart's dog, a black-and-white miniature Australian shepherd named Oreo, also tagged along with the family.
Kelsey began competing in 2016, when she was 8, and the family has traveled to different racing venues across the country.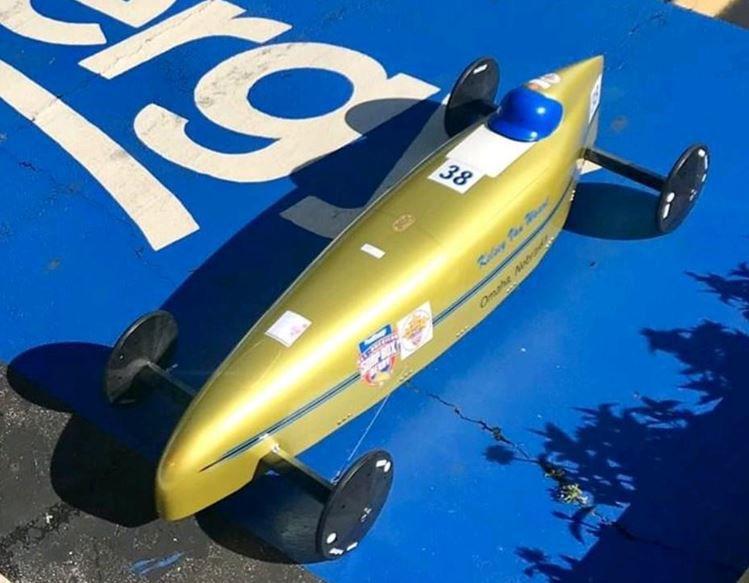 This year, her win at a local championship at Seymour Smith Park sent her to the international event. A combination of victories at other places earned her brother the right to compete as a rally driver.
More than 400 competitors ages 7 to 20 raced at the 82nd FirstEnergy All-American Soap Box Derby World Championship as temperatures climbed into the mid-90s.
All the cars are built from kits and depend on gravity as they hit speeds of more than 30 mph soaring down a 989-foot track.
In Kelsey's division, drivers lay back in their vehicles to keep their heads low for better aerodynamics. They peer out at the course through a slit about an eighth of an inch wide.
She raced in the Masters Division for ages 10 to 20, which required sleeker, more sophisticated vehicles. Winners in five other divisions became world champions as well.
Kelsey's win may have made her the first world champion from the Omaha area in decades, possibly since the 1930s, her father said.
The win also sealed a top spot among a family of racers that began with her grandfather and his brother, Jerry Van Waart, who raced in Sioux City, Iowa.
The family had five members of ensuing generations place at the international competition in Akron before Kelsey topped them all.
Sign up for The World-Herald's afternoon updates
Receive a summary of the day's popular and trending stories from Omaha.com.
A roundup of inspirational stories from Midlanders with heart
There's the woman with MS who runs despite her diagnosis. The 7-year-old born without his left hand who plays baseball just like the other kids his age. The refugee who turned to Zumba to help her recover from cancer treatments. Check out their inspiring stories and others below.